All BigAdda Promo Codes, Discounts & Deals - December 2022
Step into a world of cheap, branded electronics and gadgets at the BigAdda website. You can find the latest mobile phone models, and newest laptops, all at low prices and via the convenience of the internet. Simply log on, browse at your leisure and click to place an order, without ever having to leave the comfort of your own home.
more
About BigAdda Offers
BigAdda is an online store that offers a
vast range of electronics and entertainment gadgets, including mobile phones.
A major focus is on mobile devices, with the following brands offered on the website:
Samsung
Blackberry
Apple
HTC
LG
Dell
Motorola
Save Big With a Coupon
Get great products for less with the power of a coupon code. In order to use one, take note of the following easy instructions.
Visit CouponCode.in and search for codes. Make use of the search function.
Copy a code that is applicable to BigAdda, taking note of the products with which it may be used.
Visit BigAdda, find the applicable products and click the 'Buy now' button.
On the 'Shopping Cart' page that follows, find the input field labelled 'Discount codes'.
Enter the copied code into the space provided and click the 'Redeem' button to activate it.
Secure Payments for Your convenience
Payment can be made online easily with credit card, debit card and net banking. A cash on delivery payment is also available, but not in all areas. Look for more details on a product's details page.
Free Delivery and 30 Days Return
All items on the BigAdda website benefit from free delivery options. Delivery times vary, with details on a products information page, but average delivery times are 7-10 days.
BigAdda has a 30 day money back guarantee policy. If you find that a product is not as you expected, simply return it as it was received for your money back. Please be sure to return a product exactly as it arrived. Note that a products manufacturer warranty will be honoured by the company who created the product.
Connect via Social Media
Stay connected with BigAdda via its social media pages.
Contact Customer Support Today
If you require assistance or more information, please contact the customer support centre. This can be done via telephone or email, as you prefer. The number to call is 022-39816669, and the email address is customercare@bigadda.biz. If you need to return products, please do so at the following physical address
Corporate Office
BIGADDA
Division of Reliance Big Entertainment Private Limited,
401, Level 4, Infiniti,
New Link Road,
Andheri West,
Mumbai - 400 053.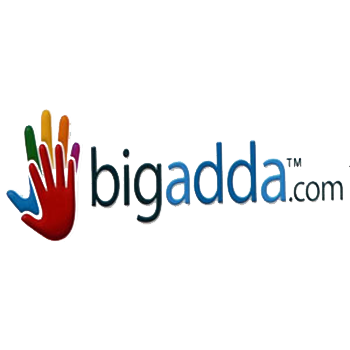 Do not let deals pass you by!
Submit a coupon and help others to save!
Similar Stores
Popular Promo Codes